I hope my non-newfrontiers readers will forgive me for a few posts reflecting a little on the group of churches I am part of. Today was the final day of the final Together on a Mission conference, as newfrontiers moves into an exciting new phase.  
I have to confess I am something of a sermonoholic. I must have listened to thousands in my lifetime. I used to have boxes and boxes of sermon tapes in the garage (still have some I can't bring myself to part with even though I have no cassette player anymore). One of the sermons is dated 2nd May 1981, and is by Terry Virgo, when he came to visit the church I attended (West Street Baptist Church in Dunstable) for an "All Saints Night". I was five years old at the time, so I can't say I recall it vividly. The text was Num 10:29, "Come with us, and we will do you good". It's a sermon I know he has repeated in several places (including his final talk at TOAM 2006), but I suspect this was one of the first times he brought the message. I've uploaded it so you can have a listen below:
[audio:Terry Virgo – Come with us.mp3]
My next run-in with what was to become newfrontiers was a visit to some friends Hove in 1987. We attended their church in the morning (sadly I can't remember who spoke but I'm pretty sure Dave Fellingham was leading worship), and in the afternoon I was told they were going on a "witness march". It sounded like the most deathly boring and cringingly embarrassing thing for an 11 year old to do on a Sunday afternoon and I almost opted out of it. But what I experienced that afternoon left a lasting impression on me. It was an early one of Graham Kendrick's "March for Jesus". I loved the songs, and held on to the song-sheet for years afterwards (probably still have it somewhere). I still instinctively start playing "The Lord is marching out in splendour" whenever I pick up a guitar. Here's a photo I took on the day: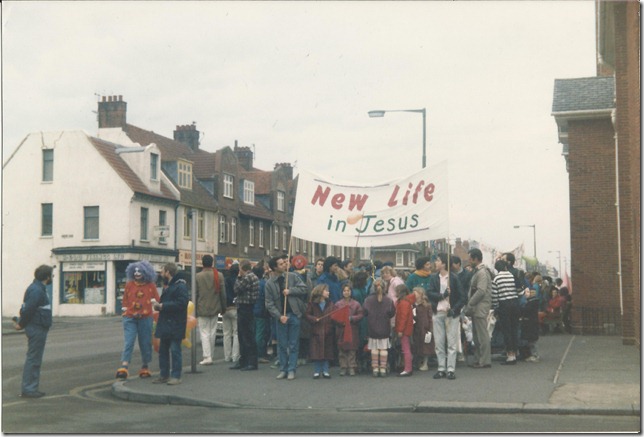 I had very little contact with newfrontiers after that – our church was part of a different apostolic sphere (or under different "covering" as it was called at the time), under the remarkable Ern Baxter. The Bible weeks we attended linked up more with Barney Coombs from Basingstoke and Bryn Jones from Bradford.
It wasn't until 1999 that I had my next real run-in with newfrontiers. I agreed to go to Stoneleigh Bible week, taking a handful of young people from my church, although I was fairly cynical and suspicious of the charismatic movement at this stage, believing most to have lost their evangelical commitment to the Bible. My prejudice was blown away as men like Dave Holden, John Hosier, John Groves, Greg Haslam, Dave Devenish, Simon Pettit and Terry Virgo himself hit successive home runs with outstanding Biblical exposition. It restored my faith that churches of "Word and Spirit" really could exist (hence the title of my blog).
So when we moved to Southampton in 2001, I wanted to at least give the local newfrontiers church a try. Almost 10 years ago now, we joined KCC, a church actually located in Hedge End, which we fell in love with immediately. It had recently moved into a new auditorium seating 300 and this Sunday will be our first meeting in our new building seating well over 1000 and we are excited to see what God will do with and through us in the coming years.
It struck me as I listened again to Terry's talk, "Come with us and we will do you good" that that is exactly what has happened for us. I am so grateful to God for linking us up with a group of churches who love the Word and are filled with the Spirit. I love the emphasis on church planting and mission to the ends of the earth that permeates the movement. I am well aware that no local church or group of churches is without fault, but I have to say that even given my tendency towards cynicism, this is a family of churches I feel privileged and proud (in a godly kind of way) to be associated with.
My advice to any Christian who finds themselves looking for a church is to find a group of people who love God and have a big vision for seeing the earth filled with his glory. It will do you good and you won't regret it.