Just over a week ago we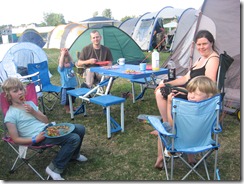 camped at New Wine, a charismatic evangelical Bible week run mainly by Anglican churches with some help from Vineyard. The highlight for me was Simon Ponsonby's morning Bible teaching series on the parables from Matt 13, although he abandoned the series to speak on John 22 (loving Jesus and knowing you are loved by him) and Joshua 3:5 (consecrating yourselves to the Lord) for the final two talks. His final talk in particular was very powerful, and it was great to finally get a chance to meet him in person during the week. His new book on holiness came during the week, although I still haven't got round to reading "The Lamb Wins" yet, so it will be a little while before I provide a review.
With four children, getting to seminars is not easy, but we made at least one each day. We went to a couple of marriage seminars from Paul and Becky Harcourt which we enjoyed. There was an opportunity to renew your wedding vows at the end of the second one, which was a nice enough idea, but I got the giggles as our four year old continually interrupted with questions such as "what are you holding hands for"?
I also went to a two part seminar series entitled "homicidal God" by Simon Coupland, exploring the difficult issue of how we deal with the violence in the Old Testament. He drew from Chris Wright and Tom Wright, and he rejected a few possible 'solutions' and offered some 'helpful thoughts' on a topic that has no easy answers.
The most interesting seminar for me was one by Nick Drake on "Encountering God's Presence in Sung Worship". He drew from some material in his fascinating masters' thesis which is available to read online here. A quote that grabbed my attention is this one from Pete Ward in Selling Worship:
"As the mass is for Catholics, and the sermon is for Protestants, so the singing of songs is for Charismatics".
In other words, Catholics expect to encounter God's presence in the bread and wine, Protestants in the preached word, but charismatics expect to experience God as they sing worship songs. I would have been interested in a discussion of whether these three need necessarily be mutually exclusive, but Nick took it in the direction of how our worship can be intimate while at the same time "accessible" to the outsider – two things that can be hard to hold together. All in all fascinating stuff, and maybe when I've finished working through Esther, I'll post some more thoughts.
As for the evening talks, I only got to a couple since I was on babysitting duty, and had to listen to others on the radio. Maybe the quality of Terry Virgo's recent messages at Together on a Mission have raised my expectations unrealistically high, but I didn't feel any of the evening messages I heard really impacted me greatly. Worship in the main venue was led by Eoghan Heaslip, David Ruis and Nick Drake.
There was another venue (creatively named "venue 2") featuring different worship leaders and main speakers, which most of the others from my church went to and seemed to greatly enjoy. It had slightly edgier worship, and a more contemporary feel, and proved very popular. Sadly the capacity of venue 2 is much smaller than venue 1 so those dropping off children first had no chance of getting in before it filled up.
As always, our children loved it. I am always moved by the loving and sacrificial work of the armies of kid's workers who put on such excellent programs for them. And the greatest miracle of the week was the weather – no rain, not too hot, not too windy.
All in all it was another enjoyable year at New Wine (our seventh visit now), and apart from the disappointment of not being able to camp next to (or even close to) the friends we came with, we had a great time. Next up is Together at Westpoint.