Various bloggers have listed their favourite albums of 2008. Tim Challies lists eight, Neil Bennetts offers four, and Gary Boal can't think of any.
I don't buy much music and in recent years it has tended to be simply the live worship album from whatever holiday I went on in the summer. But I have managed to pick out four albums I bought this year that I have particularly enjoyed.
Sovereign Grace can always be relied upon to produce theologically sound and Biblically rich songs. I don't always like their musical style, but this release is one of their best. Definitely worth checking out and their download store is good value for money.
I really liked Phil Wickham's first album and this one is even better. He's another artist that is well worth checking out. He writes devotional songs, but they are not particularly targeted at congregational singing. His lyrics are well crafted and avoid too many typical worship song clichés. True Love is probably my favourite song on the album.
Delirious – Kingdom of Comfort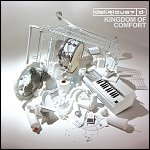 I'm not really into Delirious. The only other one of their albums I own is King of Fools, released way back in 1997. But I thought I'd give them another try and I liked what I heard. There's clearly some emerging church influence in the lyrics, but it is good challenging stuff and avoids being preachy.
I was alerted to this one by Emily at Unfurling Flower, and it is the rarest of treats – a Christmas album I actually like. Refreshingly different from the typical batch of carols plus drums churned out by the bucket-load by Christian bands short on ideas. Technically you can get it for free by spamming five friends. I chose to pay $5 for my copy.
I would love to hear from other readers or bloggers what albums they recommend this year. I could do with a bit more variety in my music listening habits.