Full Faith meetings are sadly rare occurrences these days, but last night, we enjoyed only the second full faith since moving to Southampton, and the first visiting speaker from KCC – Mark Mould. I spoke first on the life of King Asa from 2 Chronicles 14-16 (hopefully will turn it into an article for my theology page shortly). Mark then used his sermon to defend an allegorical interpretation of the Song of Songs, drawing on quotations from the Puritans. See below for a photo of Mark preaching from our beautifully constructed pulpit: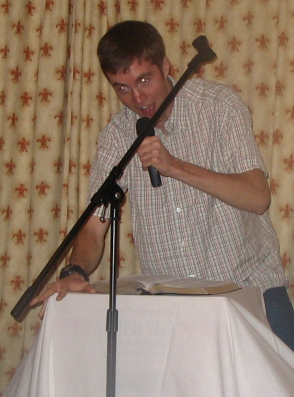 As usual, there was much hilarity at the start of the meeting, including the traditional notices, and for the first time at Full Faith, a puppet show. We also saw yet another interview with 'Dave' (not his real name), a missionary to the rich and famous in Holywood, raising money so he could contextualise himself by living an opulent and lavish lifestyle.
Another first, was an appearance by new youth pastor "Thomas Simon", shown below performing a magic trick involving handkerchiefs and underpants to demonstrate the real meaning of Christmas: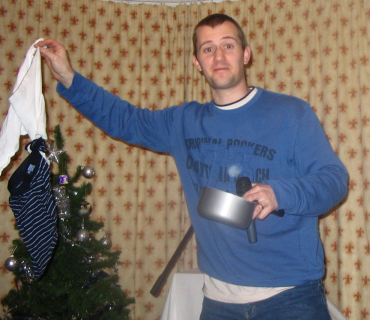 Selected highlights from the full faith notice sheet follow:
We are pleased to welcome amongst us today guest preacher His Holiness Cardinal Mark Mould VIII, founder of the "Keep Comedy out of the Pulpit" campaign against jokes in sermons.
Manifestation Rationing
To maintain order in our meetings, we are introducing a new scheme where you are only allowed to five manifestations (falling, roaring, convulsing etc) per month. The elder leading the meeting will collect ration tickets after the meeting if you used one. They cannot be traded or carried over to the following month.
New At The Bookstall
Now available in the bookshop – "Scraping the Barrel Vol 7" CD – the songs that didn't quite make it into Songs of Fellowship. £1 off for the first 2 customers – only £13.99.
Courses for Horses
The Alpha course is now available for horses. Reach out to the otherwise unreached horse lovers, by offering spirituality for their horse. Includes a special "horse-whispering Scripture" day away.
Big Screen
After last Sunday's viewing of the entire Lord of the Rings trilogy, we have decided that preachers will now be rationed to a maximum of 60 minutes of video on the big screen. Apologies to those whose dinner burnt.
Children's Corner: Finish the Bible verses
What would Jesus …?
Waste not, want … ?